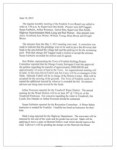 The text version of the minutes in this post was created with optical character recognition (OCR) software. While every attempt has been made to verify the text, accuracy is not guaranteed. Please refer to the PDF version of the minutes in the link below to see an exact version as received from the Town of Franklin. A video recording of this meeting is below.
Download PDF copy of Franklin NY Town Board Minutes – May 5, 2015
---
The public hearing for proposed Local Law #1, Governing the Sale, Application, and Disposal of Waste Associated With Oil and Natural Gas Exploration, Extraction and Storage Activities was opened at 7:00 p.m. Present were Garret Sitts, David Grant, Supervisor Jeff Taggart, Highway Superintendent Mark Laing and Paul Warner. Also present were Eugene Marner, Carole Marner, Brian Brock, William Young, William Degenhardt, Elwood Weerheim, Ken Walter, Dawn Ritz, Liz Serrao, Glen Gaetano, Rachel Phillip Gaetano, John Alessi, Sylvie Lecompte, Wendy Swears, Jamie Archibald, Kaima Nelson-Bowne, Jan Mulroy, Rose Cleaveland, Jane Couch, Jason Starr, Pete Bevilacqua, Eric Huneke, Michael Wallace, Cheryl Petersen, Donald Hebbard, Shirley Ferguson , Dwight Bruno and Patricia Coyle.