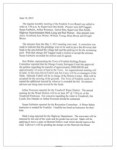 The text version of the minutes in this post was created with optical character recognition (OCR) software. While every attempt has been made to verify the text, accuracy is not guaranteed. Please refer to the PDF version of the minutes in the link below to see an exact version as received from the Town of Franklin. A video recording of this meeting is below.
Download PDF copy of  Franklin NY Town Board Minutes – September 1, 2015
---
The regular monthly meeting of the Franklin Town Board was called to order at 7:35 p.m. by Supervisor Jeff Taggart. Present were Garret Sitts, David Grant, Lisa Huyck, Supervisor Jeff Taggart, Highway Superintendent Mark Laing and Paul Warner. Don Smith arrived 5 minutes later. Also present were Lori Walter, Bill Young, Ken Walter, Eugene Marner, Carole Marner, Tony Breuer, Elwood Weerheim, Don Hebbard, Jan Mulroy, Betty Fischer, Jane Hebbard, Jerry Hebbard, Rose Cleaveland, Mary Ellen Collier, Jason Starr, John Alessi, Tim Robinson, James Ray, Lois Brandow, Roger Reed, Robert Caims, Jill Carmody, Liz Serrao, Don Smith, Shirley Ferguson, Jessica Reed, Dwight Bruno, Epifano Bevilaqua And Linda Bevilaqua.
The minutes from the August 4th and August 12th meetings were read. David Grant made a motion to accept the minutes as read. Garret Sitts seconded the motion and all present agreed.