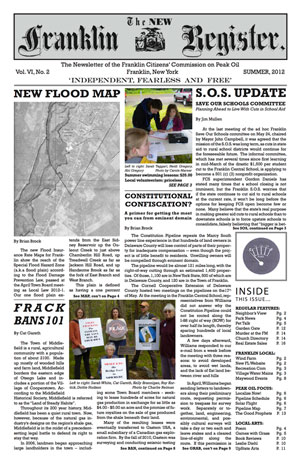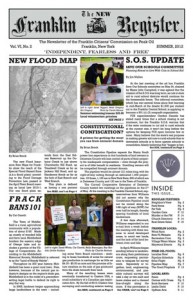 The NFR in your mailbox…or your inbox! Live out of the area, or just too far from town? You can still read the NFR.
In Your Mailbox, Inbox or Web Browser
Sign up for mailed delivery. Just $7.00 for a year's subscription (3 issues, starting with the issue after we hear from you.) This fee will cover (ever-rising) postage and handling. The NFR is still free.
OR…perhaps you prefer to read your news on line? Send us your email address, and we'll send you a link to the PDF of the latest issue,  as soon as it comes out. (The file is big, so if you have a dial-up connection, this will not be an option for you.)
You can also read The New Franklin Register online (PDF, EPUB or plain text) at:
http://archive.org/details/TheNewFranklinRegister
Send payment to Franklin Local for mailed delivery to:
Editor/ Subscriptions
The New Franklin Register P.O. Box 258
Franklin, NY 13775
For email subscription, choose New Franklin Register on our signup form on this page.