By Carla Nordstrom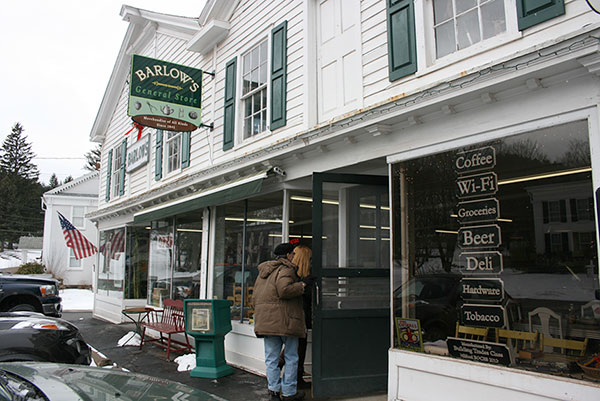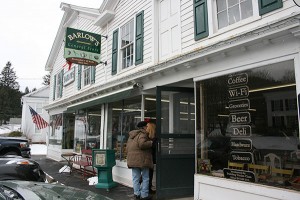 I picked one of the worst late February days to drive to Barlow's General Store to visit with owners Rachel and Glen Gaetano. It was pouring rain as I drove along County Route 14; the pavement was full of puddles with streams sliding down each hill. Just as I arrived, the rain turned to snow and I began to worry about the drive home. Walking into Barlow's quieted my nerves and helped me remember that spring is on the way.
Rachel and Glen became the new owners of Barlow's General Store in January of 2012. Barlow's has been in continuous operation since 1841 and was not closed for renovations when the new owners took over. Not that there haven't been changes and additions to the store. A full kitchen was added, as well as a deli section and a restroom. Tables, chairs, even a checkerboard perched on a barrel, are scattered throughout so that patrons can enjoy delicious homemade food and conversation over cups of locally processed coffee and tea. The decor is airy and pleasing, providing a boost of hope on a gray and wintry day.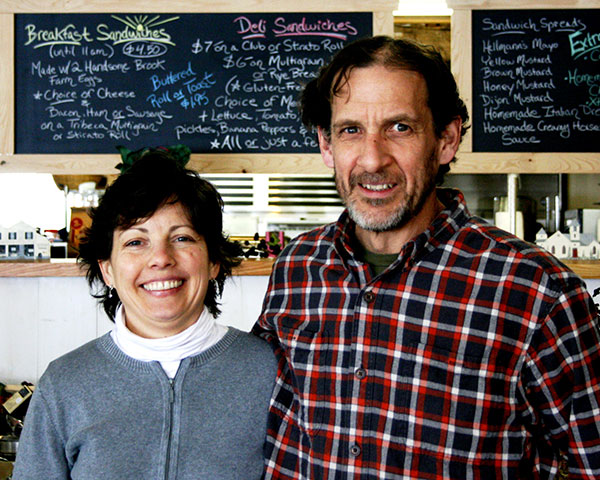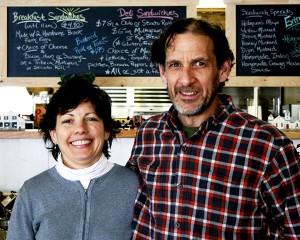 They also serve homemade chili and soups. The cakes, cookies, and brownies are all baked on the premises. On Fridays, fresh baked goods from Bread Fellows Bakery of Bovina are delivered. Breakfast sandwiches and brunch specials such as sausage and biscuits are served on weekends. Also, if you have a sweet tooth, you won't want to miss the donuts and cupcakes. Rachel made a compelling point about satisfying a craving for sweets: if you are lusting for cake and you bake one, you have to figure out what to do with the rest of the cake once you've had your slice. Barlow's baked delicacies offer a chance for sensible portion control.
Groceries are available from chips and traditional staples such as canned goods to Red Mill flours, local honey, and maple syrup. Milk, eggs, cheese, fresh produce, and beer can be found in the refrigerator. A huge freezer case stands at the back of the store filled with locally grown meat, pasta, pesto, and breads from Tribeca Ovens. After a long day at work or a drive up from the city, when you know that your refrigerator at home is empty, you can pick up the makings for a delicious meal of salad, chili, soup, or pasta, and bread. Lots of the products that are featured at Barlow's are a result of customer requests. Rachel and Glen will do their best to carry what you want. They also cater parties or events with cold cut platters and salads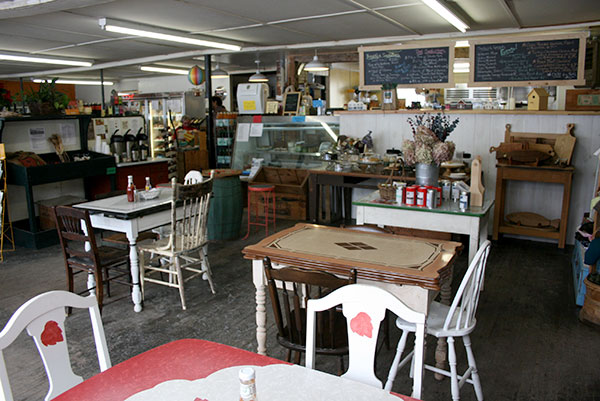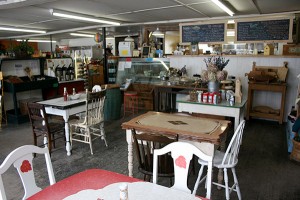 Barlow's has an eclectic selection of items for sale throughout the store. The hardware section is in an alcove off to the right. Nails or saw blades can be purchased. If you are in the middle of a home repair job in Treadwell and run out of something, there is a good chance you can pick it up at Barlow's. Locally made crafts such as pottery, candles, and birdhouses are available. Wally's Wood Shop has a table with rectangular and oval cutting boards. Just like Ralph's Pretty Good Grocery in Lake Woebegone, if you can't find it at Barlow's, you can probably do without it.
A number of years ago when students still went to the old Treadwell School, a barber came to Barlow's once a week and boys would be dismissed early to get their hair cut. The local mailman brought the barber to town because he didn't drive. Barlow's has always been a meeting place and a community resource at the crossroads of County Routes 14 and 16. Rachel and Glen are committed to continuing this tradition. They have lots of ideas of ways to serve the needs of the Treadwell community. Artists Over Easy meets for Saturday morning breakfasts. There are plans to renovate the rooms upstairs and create a community space for meetings and classes.
Among other services available at Barlow's are a community bulletin board, an ATM, and copy and fax machines.
Who knows, soon you may be able to get your hair cut again at Barlow's.
Support local producers. Shop at a local store. Stop by at Barlow's General Store.
Barlow's General Store
4487-4489 County Rte. 14
607 829-8555
Hours: Monday, Wednesday through Saturday 7:00-6:00
Sunday 9:00-3:00
(Closed on Tuesday)