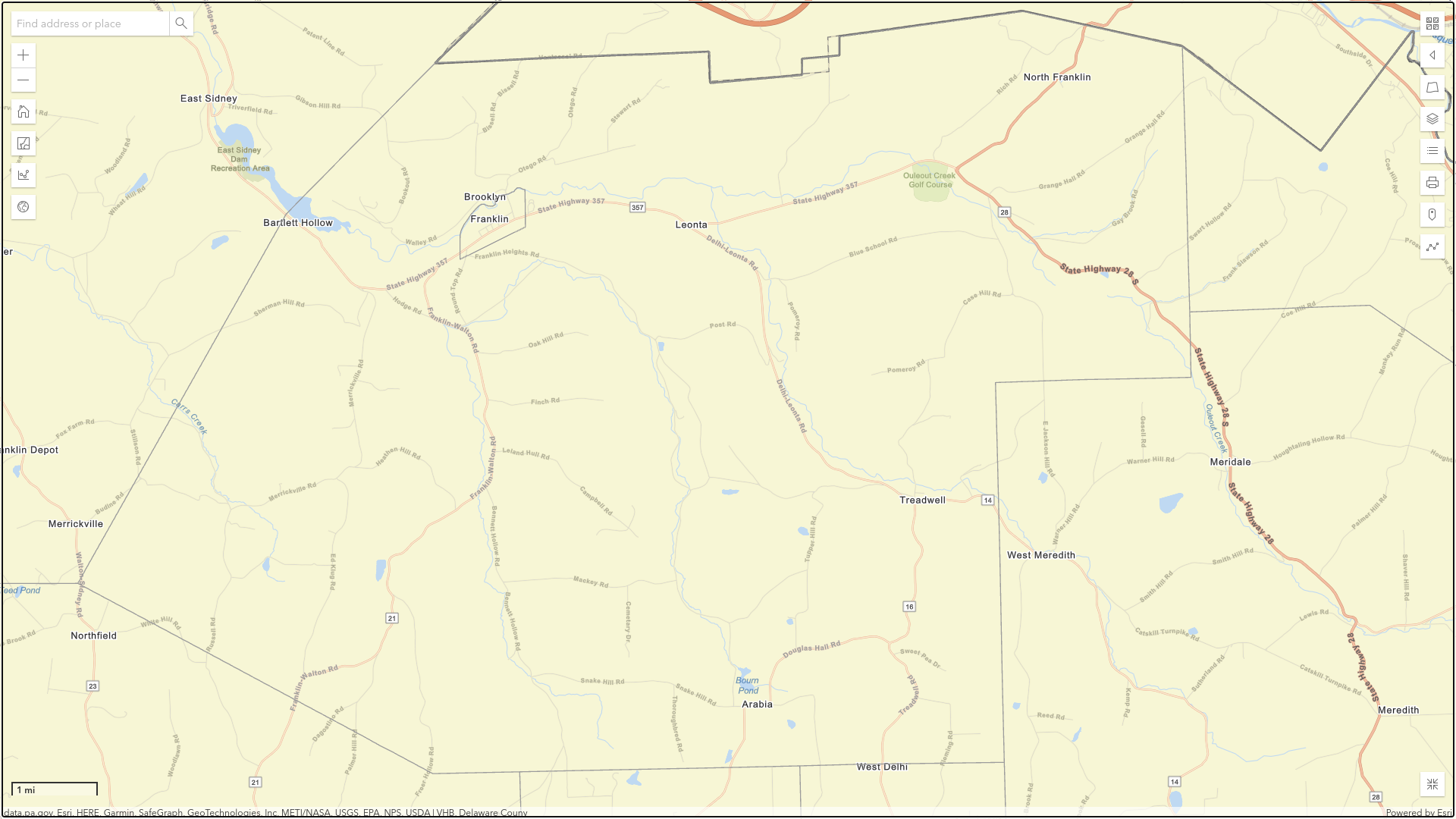 Maps, Images and Property Data, Delaware County
A graphical database of all of the properties in Delaware County is accessible online for free. It is a graphic information system or GIS from the county Planning and Watershed Department: 
https://spatial.vhb.com/comit/
C.O.M.I.T. stands for Community Online Mapping Information Tool.  The tools that are available allow you to:
View any land at scales as large as five feet to the inch.  
View the approximate boundaries of properties within the county, but only on the larger-scale images.
Locate a property by its address or tax ID number.
Search for the properties owned by a person, company, or government.
Identify the owner of any property.
Locate any wetland on a property or land in the floodplain.
Find the soil types on a property.
Measure a length, elevation, or area.
Note that it may take P&W many months to update ownership after a sale. Also the assessed values may be dated, but you can check the current value at the website of the Franklin assessor using the tax ID number: 
https://town-of-franklin-ny.org/departments/assessor/assessment-rolls/
The default image is a mosaic of aerial photographs from 2016, which should be updated soon. There are also two mosaics from 2004 and 2001, but they have a lower resolution.  In addition to those photos, there are nine types of basemaps:
Navigation
Open Streets Map (color, light gray, or dark gray)
Streets
Topographic (shaded)
USGS National
USA Topo
Hybrid Imagery/Map.
They are accessible with the button in the upper right corner.
You can pan across the landscape by dragging the image and even rotate it. Scale can be changed with the pair of buttons (+ and -) in the upper left corner.
Map Tools (aka features) are accessed via the buttons on the upper left and right margins. A button in the lower right corner lets you toggle to a full screen and back.
You can Export (aka print) any image that you create. Before printing you can annotate map with points, lines, shapes or text.
There is an short online tutorial (aka Help) if you need help in accessing one of the many features of COMIT.
The New Franklin Register publishes current property sales. We plan to add recent years of property sales to this list.
Property Sales by Year