In the last few months, everything has changed – but in reality, nothing has changed.
What has changed?
The Tennessee Gas Pipeline Company seems to have dropped its Northeast Extension Project, after the partnership of Williams and Cabot announced their Constitution Pipeline.
Instead of moving the gas from the Tennessee #300 pipeline, the gas will come from the Williams Transco Pipeline further to the south.
The Northeast Extension would have been a 36" pipeline, whereas Constitution will be 30" – one third smaller. To move the same amount of gas through a smaller pipe, the pressure will be higher: 1480 psi.
What has not changed?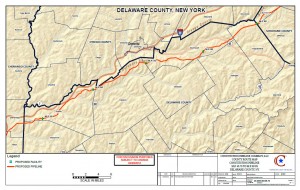 A major pipeline will still run through Franklin (see map at right). The gas will still come from the Marcellus gas fields of Pennsylvania. This gas will be delivered to the intersection of the Tennessee #200 and the Iroquois pipelines in the Town of Wright, Schoharie County, and from there moved on to New England or the New York Metro area. Construction is still scheduled to begin in the spring of 2014 and finish in less than a year (see Timeline: Constitution Pipeline).
How did this happen?
It seems that Williams and Cabot have managed to hijack the pipeline route from Tennessee Gas Pipeline Company. Williams says: "The two projects are competing proposals. No one bought anyone out." El Paso Corp (parent of Tennessee Gas Pipeline Company) would only say: "We are continuing to assess the needs for the project with potential customers."
No other details were provided by Richard Wheatly, Manager of Media Relations. All this is despite El Paso having presented the Northeast Extension at least since September 2009, whereas Williams first presented the Constitution in February 2012.