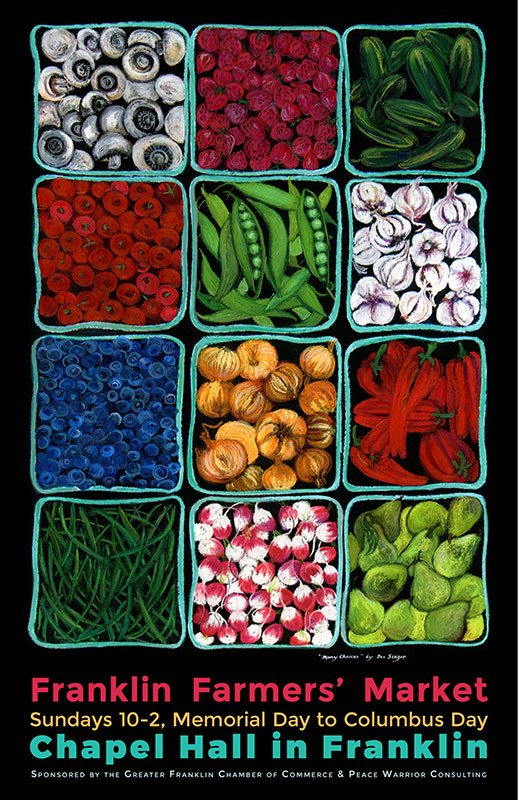 The Franklin Farmers' Market at Chapel Hall starts its 13th season on Sunday, May 26th.
You can find us at 25 Institute Street, Franklin NY, just off Route 357 in Delaware County – home of the Franklin Stage Company.
We are an FMNP (Farmers Market Nutrition Program) authorized market accepting both WIC and Senior FNMP checks. We also accept Fresh Connect coupons. Coming Soon: SNAP/EBT Authorized Market! Stay tuned for more details.
This year's poster is by Dee Singer, and will be available for sale at the market.
We are an official tobacco-free market.
Vendors kicking off this season include:
CORDWOOD ACRES: Seasonal vegetables, fruit, eggs, pork, soaps, beeswax candles
EAST BROOK FARM: Seasonal vegetables, herbs, hand-made salves, tinctures, plant seedlings
ELK MEADOW FARM: Maple syrup and honey products
EMPIRE ANGUS FARM: Angus beef
ENOUGH AND THEN SOME MORE: Plant seedlings, some seasonal produce
FOKISH: Organic breads and pastries
FRANKLIN FREE LIBRARY: Bake sale
GENERAL STORE: Posters, postcards
HARE AND FEATHER: Soft cheeses, jams and spreads, candies, rabbit
HOSPITALITY TENT: Fresh coffee, bottled water
IZZABON: Dyed silk scarves and unique custom jewelry
THORN COTTAGE FARM: Seasonal vegetables and blade sharpening
WHEAT HILL FARM: Fresh grilled gyros, lemonade, iced tea
Musical Guests:
Date
Musicians
May 26
Rickety Fence
Folk, classic rock, Americana
June 2
John O'Connor
Country, folk, original songs
June 9
Local Seisiún
Traditional acoustic Irish
June 16
Hyzer Hillbillies
Folk and bluegrass
June 23
Rickety Fence
Folk, classic rock, Americana
June 30
John O'Connor and his Fellow Travelers
Country, folk, original songs
July 7
Bill Steely
Country singer/songwriter
July 14
Local Seisiún
Traditional acoustic Irish
July 21
Hyzer Hillbillies
Folk and bluegrass
July 28
Skinny Cow Workshop
August 4
Colleen Kattau
Bilingual singer/songwriter
August 11
Rickety Fence
Folk, classic rock, Americana
August 18
Jason Starr
Bluegrass, folk, singer/songwriter
August 25
The Catskill Mountain Consort
Classical, original compositions
September 1
Hyzer Hillbillies
Folk and bluegrass
September 8
Old Masters
Jazz and standards
September 15
John O'Connor
Country, folk, original songs
September 22
Local Seisiún
Traditional acoustic Irish
September 29
Jason Starr
Bluegrass, folk, singer/songwriter
October 6
Charles Eubanks
Jazz keyboard
October 13
Charles Eubanks
Jazz keyboard