By Mary Ellen Collier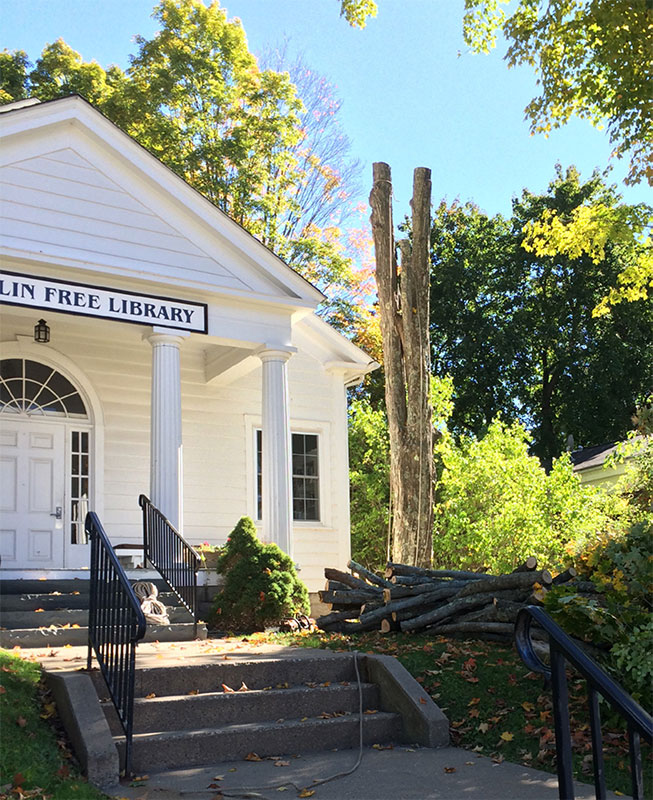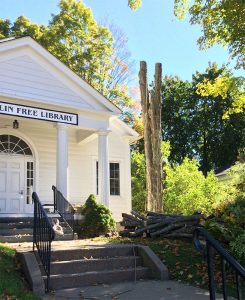 People around town may notice that the Franklin Free Library has removed a large old maple tree on the west lawn. By the time you read this, the second old maple may be gone as well.
This is the exciting beginning of a major upgrade to the Library. Plans are being implemented to create a cellar entryway into the Library, with a wide level walkway from the village sidewalk. Patrons will be able to use wheelchairs, scooters or walkers to get easily to the new entryway. Once inside, a personal wheelchair elevator will provide access to the Main Floor, for programs and the book collections. A new Reading Room is being planned in an area inside the new entryway. The current bathroom will be enlarged and new fixtures will make it accessible for people in wheelchairs. The emergency exit at the rear of the Library will be enlarged and ramped for accessible, safer exiting.
Library Board members applied for and have been awarded a generous grant from The O'Connor Foundation to begin the rehabilitation of the bathroom and rear exit. The Library has also applied for a substantial grant from the New York State Library Construction Grant Program. Although results of our application won't be known until next June, it has passed several hurdles and hopefully will be successful.
The new entryway and walkway will be located on the west side of the Library, and will not change the beautiful stone steps and grand entryway that we currently enjoy. Since 1931, the Library building has stood proudly on its hill, with its wide inviting stairway welcoming all to visit. Soon we will have an inviting sidewalk as well and a new entrance, to welcome everyone who needs a bit of assistance.
The Franklin Free Library looks forward to improving access for people of all physical abilities so they can make the most of Library resources, attend entertaining and educational programs, enjoy Game Night, and much, much more.
Did you know that… The Franklin Free Library provides free wi-fi, internet and computer access to our community?