"I would never think that I'd hitch up with Sadiq up here.  But when you said Archie Taylor was up here, I couldn't believe my ears. I didn't know anything about up here."
The speaker was Charles Eubanks, a new resident in the village of Franklin and a distinguished, semi-retired jazz pianist. He was talking to Gene Marner, a jazz lover and friend of drummer Sadiq Abdushahid, a Masonville resident.  That name did not ring a bell with Charles until Marner mentioned Sadiq's birth name, Archie Taylor Jr.  Then the story of a magical past life came pouring out.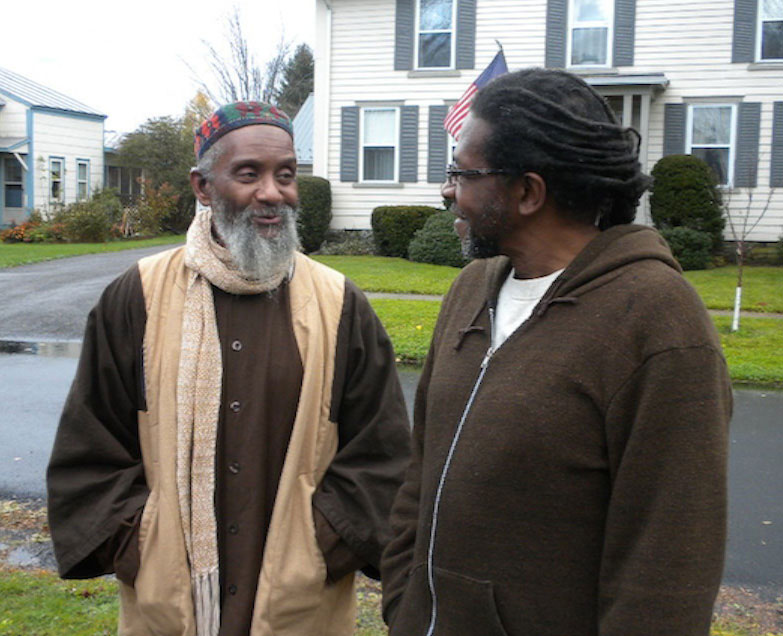 Both Sadiq and Charles grew up in Detroit –– Motown –– in the 50s and 60s.
"Motown then was Hitsville," noted Charles. "There was music everywhere you turned." Both come from comfortable musical families who encouraged their playing.  Sadiq's father, Archie Taylor Sr., was a well-known drummer and bandleader.  Charles' father had been a trumpet player and bandleader in the South who, after moving north, worked for the Ford Motor Company as a tool-and-die maker, retiring as foreman.
Charles went to an art high school everyday, but after school it was, "Come and play music.  Surprised I ever graduated…We kids hung around, listening outside recording studios, clubs, cabarets and coffee houses.  As word went out who was playing where, you would go and wait for a chance to sit in and then if you were good, you got called to play backup for people who were famous or soon would be."
Rhythm and blues, soul, jazz.  "We'd go anywhere there was music – Ann Arbor, Pontiac, Grand Rapids. So many artists coming through Detroit.  It was the center of the music universe."  At fifteen, Charles became a studio musician at Motown records, making "real money.  I even had a '66 mustang – blond with red interior."
But soon Motown was not swinging enough.  "Sadiq and me, we were just kids but we both were blown by the forward-thinking guys like Charlie Parker," says Charles. "And when I first heard John Coltrane, I could hardly believe my ears."  Coltrane transformed jazz in the mid-twentieth century with his bold and adventurous improvisations which liberated jazz musicians from the constraints of traditional jazz structures and harmonies. "The chords they played…they opened me up. After that, I just wanted to play that music –– to swing, the swing you feel in your bones.   From then, all I aspired to was to go to New York and play like Coltrane."
In 1971, it was Sadiq, married with kids, who went to New York first. "New York was culture shock," he says. "We landed in the Bronx. It was a war zone. I left three times before I finally stayed."  But soon Sadiq was playing and touring Europe with cutting edge groups like Pharaoh Sanders, Sun Ra and Ornette Coleman.
Charles arrived in New York in 1973.  "I slept in Washington Square Park.  In the day, I played in a practice room at NYU. I just walked in and they gave me a practice room.  Nobody questioned me.  I slept on the ground, played in the practice rooms, then I would go hang around the clubs, picking up gigs with guys who were out there, like Rashid Ali.  One day, Sadiq came through the park and after that I slept on his sofa.  Just in time, because it was getting cold in the park."
By the late '70s, Charles was playing with Sonny Fortune and Dewey Redman, and touring Europe and Africa with groups like Archie Shepp, Kenny Clarke and Art Blakey.
Sadiq and his wife Latiefa had become devout Muslims.  In the '90s, wanting to home-school their children, they decided to leave the city.  "We heard about up here and came up and found Masonville.  We left the city for the kids' sake – there are twelve children now, aged 21 – 56.  They are all home-schooled, all doing real well."
The two men lost touch.  Sadiq and his family homesteaded in Delaware County. Charles, when hip hop came in and times got hard for jazz, finished his degrees and started teaching.  From 1986-91, he was music director for the City of New York Parks and Recreation Department.  Last year, Charles bought a house in Franklin to be close to his little daughter, who lives with her mother in Treadwell.
And now Charles and Sadiq are playing together again.  Charles talks about starting a group called Detroit Cats Kill. They have been performing at the B-side Ballroom in Oneonta to enthusiastic audiences.  One night this past summer, just the two of them played a gig.  They were in their own world, each hearing and responding to every nuance of the other's playing. And they were swinging.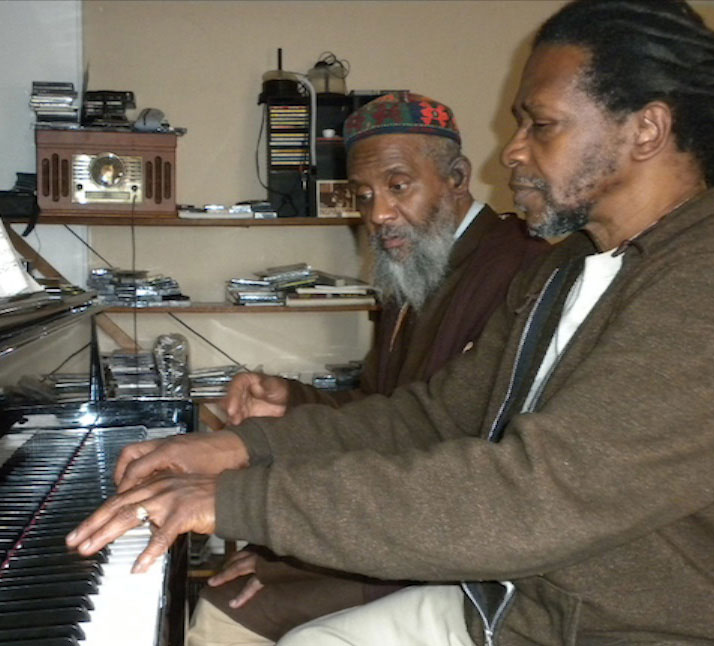 Photos by Gene Marner