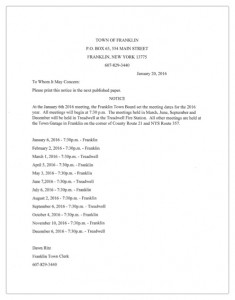 TOWN OF FRANKLIN
P.O. BOX 63, 554 MAIN STREET
FRANKLIN, NEW YORK 13775
607-829-3440
January 20, 2016
To Whom It May Concern:
Please print this notice in the next published paper.
NOTICE
At the January 6th 2016 meeting, the Franklin Town Board set the meeting dates for the 2016 year. All meetings will begin at 7:30 p.m. The meetings held in March, June, September and December will be held in Treadwell at the Treadwell Fire Station. All other meetings are held at the Town Garage in Franklin on the corner of County Route 21 and NYS Route 357.
January 6, 2016 – 7:30p.m. – Franklin
February 2, 2016 – 7:30p.m. – Franklin
March 1, 2016 – 7:30p.m. – Treadwell
April 5, 2016 – 7:30p.m. – Franklin
May 3, 2016 – 7:30p.m. – Franklin
June 7,2016 – 7:30p.m. -Treadwell
July 6, 2016 – 7:30p.m. – Franklin
August 2, 2016 – 7:30p.m. – Franklin
September 6, 2016 – 7:30p.m. – Treadwell
October 4, 2016 – 7:30p.m. – Franklin
November 10, 2016 – 7:30p.m. – Franklin
December 6, 2016 – 7:30p.m. – Treadwell
Dawn Ritz
Franklin Town Clerk
607-829-3440