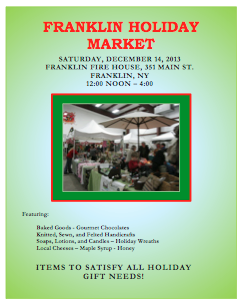 December 14th in the village of Franklin NY – enjoy our holiday market and Christmas Stroll
11 AM – 3 PM Grandma's Pantry at the Methodist Church featuring homemade items, rummage sale, bake sale and soup and sandwich lunch.
11 AM – 6 PM "Spiritual Creations", handcrafted jewelry, for sale at 856 Main Street. Other craft items also available here.
Noon – 4 PM  Holiday Market at the fire house offering homemade, handmade and homegrown local items .
1  – 7 PM Nine Houses will be open for touring in an open house self guided tour format. Maps available at the Fire House at 12:45 PM.
1-5 PM Cocoa (and Coffee) House at the Community Bible Church, 89 Center Street, featuring music, carols and a multimedia presentation of the Christmas Story. Stop in, stay as long as you like.
3-5 PM – Sit and rest while you view slides of Franklin gardens at the Episcopal Church, corner of Main and Institute Streets.
4 – 5 PM  A rehearsed reading of the classic tale The Snow Queen with a holiday reception at the Franklin Stage Co. on Institute Street for the whole family.
4 – 7 PM  The Senior Class will be offering a lasagna dinner at the school along with a Chinese auction of Christmas gift baskets.  DJ Potter and A Company of Two will be there to offer great music including holiday songs throughout dinner.
Hometown Pizza, 226 Main St.,  open noon – 8 PM, will be offering a dinner special.
6 PM  Santa and Mrs. Claus will arrive at the park on Main Street to greet children. From there to the fire house for free snack, craft and pictures.