The Treadwell Park
The Franklin Village park, our first park in the town of Franklin, is less than a year old, and already there is talk of a second park in the hamlet of Treadwell. This park would be cut from the approximately 22 acres of school property by dividing it into two parcels after a survey. Delhi School Board would then put the school building and surrounding 5+ acres up for sale.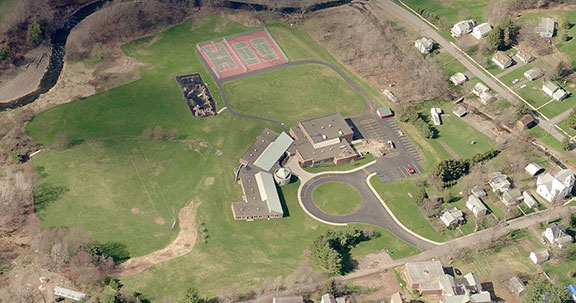 The remaining 16+ acres — including playground, baseball, and tennis courts — would be given to the Town of Franklin for a town park along with $920,000. (The Village park is less than an acre, though land could be added in rear.) A museum to house the collection of the Treadwell Historical Society would be built with $200,000 to $300,000. The remainder of the funds would be put in trust to be conservatively invested for the maintenance of this park.
This proposal from the Franklin/Treadwell Kellogg Committee was well received at a meeting of more than thirty residents in the Treadwell Fire House this February and has been accepted by Delhi. Discussions continue between the Committee and the Franklin Town Board over the financial arrangements. (Property and funds must be transferred to a municipality, and because Treadwell is an unincorporated hamlet, it can not take possession.) Most likely our Board would hold public meeting before finalizing this agreement.
This transfer would be funded from the capital account, one of the four accounts of the Kellogg Foundation. Any agreement must be approved by the New York State Attorney General.