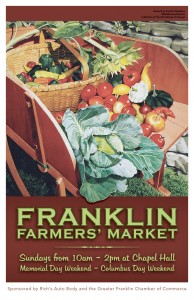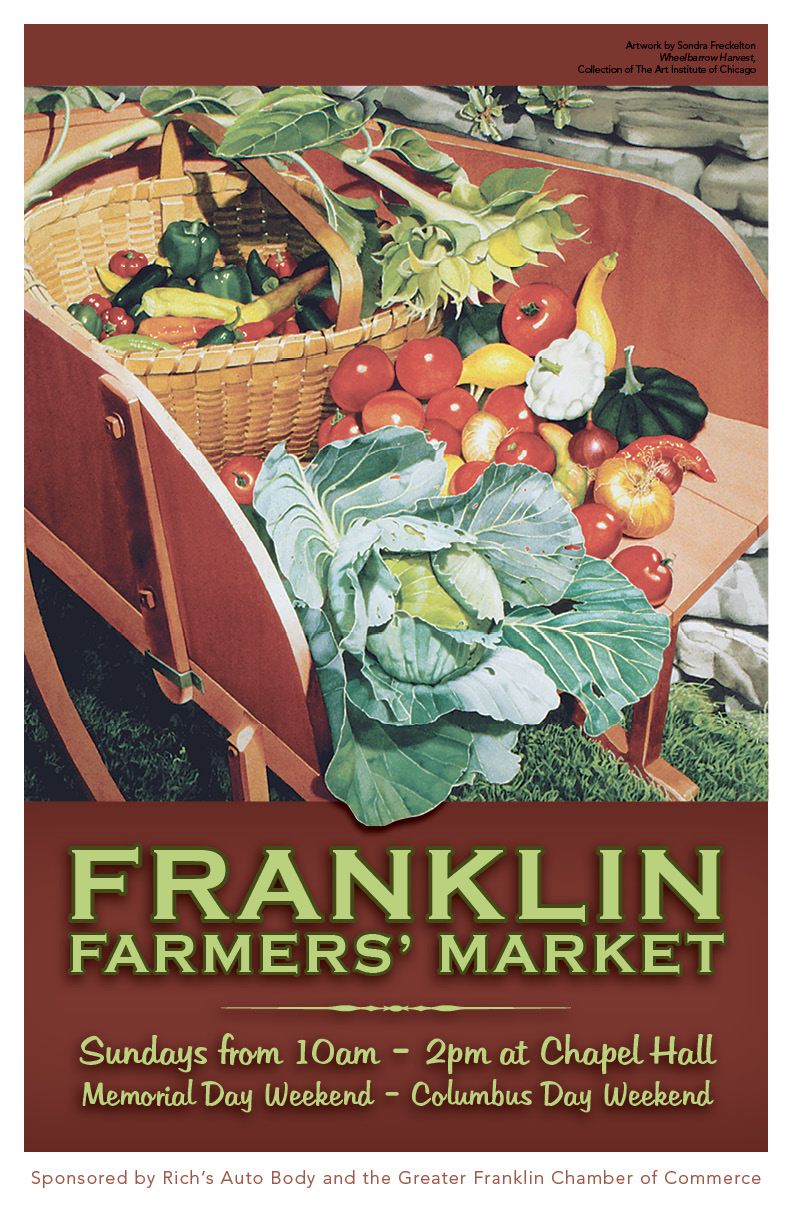 Every Sunday 10am-2pm
Memorial Day weekend to Columbus Day weekend!
Rain or Shine!
SUNDAY, OCT 7 – OUR LAST MARKET OF 2012!
This week featuring:
FRANKLIN FREE LIBRARY BAKE SALE!
& PUT UP AND SHARE!
If you put up more vegetables or fruit than you will need, here is an opportunity to swap for some additions for your winter's larder. Canned and dried foods only. With labels, please.
VENDORS, October 7
BREEZIE MAPLES FARM: Maple syrup, maple syrup products.
CORDWOOD ACRES: Vegetables, eggs, handmade soaps, fresh cut flowers; taking requests for fresh rabbit and orders for naturally-raised turkeys for Thanksgiving.
ENVIRO-ENERGY: Natural grass pellets for fuel, soil conditioner & mulch; kiln dried pine pellets for animal bedding and cat litter.  Barley pellets to control algae growth in ponds.
FISH HOLLOW FARM: Felted wool jewelry, purses, hand-dyed knitting wool, and crafts from farm-raised flock; felted washcloth pouches of goats' milk soap.
FOKISH: Organic, flat, round and long breads and rolls; sourdough.
LILAC HILL FARM: Coverlets, socks, knitting worsted from farm-raised flock.  Get your honey and yarn for the winter. Last market of the season0.
LOULOU'S FARMSTEAD: Plants: Herbs–100 varieties; Flowers–perennials, annuals; Vegetables–heirloom tomatoes, peppers. APPLES!
MUFFY MCDOWELL & HARRY BARNES:  Gourds and garlic.
NATURALLY SPEAKING: Organic:  squash, onions, potatoes, tomatoes,lettuce.
NECTAR HILL FARM: Grass-fed on organic pastures: lamb, beef, pork.  Honey, goat and cow cheese.
SHERMAN HILL FARMSTEAD:  Artisanal goat and cow cheeses; gluten-free baked goods, freshly made jams; goats' milk soap made with our goats' milk.
STONY CREEK FARM: Organic: eggs, vegetables, broiler chicken, ground beef, ground lamb.
THE BIG HOPPER RABBIT FARM:  Rabbit, duck, chicken, eggs; taking orders for geese and turkey.
TUNDRA BREWERY:  Farm-brewed ale and beer made from own field grown hops and barley and maple syrup from own sugar.
TWO-TON FARM: Organically grown heirloom vegetables; shiitake mushrooms; pies are always a possibility; hand-forged implements and hooks and surprise freebies!
WALLY WOODSHOP:    Handcrafted cutting boards using local hardwoods.
WHEAT HILL FARM: Fresh produce: garlic, mint; eggs; rabbit; fresh grilled gyros.
WILD MOUNTAIN APIARY: Raw and heated wild flower and buckwheat honey; honey products.