After repeated requests by the Franklin Town Board, Leatherstocking came to the May meeting to brief them on a possible natural gas distribution line to run from the proposed Constitution Pipeline through Franklin to industry in Fraser, Town of Delhi. (Both Morningstar Foods LLC and Clark Inc. could be large consumers of gas.) Probably this pipe would be low pressure ten-inch high density polyethylene, but medium pressure four-inch steel is an option. Either would be buried three to five feet deep.
Leatherstocking Gas Company LLC is a joint venture between Corning Natural Gas Corporation and Mirabito Holdings. It has started constructing distribution systems in the townships of Bridgewater and Montrose, Susquehanna County, Pennsylvania.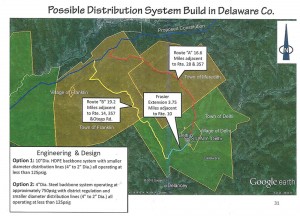 Mike German, president of Leatherstocking, showed two speculative routes. One would run 20.4 miles down County Highway 28 and State Highway 10 through North Franklin, Meridale, Meredith, and Delhi. The other would run 19.6 miles down Chamberlin Hill Road, State Highway 357, County Highway 14, and County Highway 16 through Leonta, Treadwell, and West Delhi. The latter is considerably different from the one shown last year to the councilmen of the towns of Delhi and Meredith, and to the trustees of the village of Delhi. That would have run down Otego Road to State Highway 357. Unlike the old, this new version does not go through the village of Franklin, and therefore to supply gas to the village a spur would have to be built from Leonta, a distance of 2.5 miles.
Leatherstocking does not have the power of eminent domain and would have to negotiate for all easements. It could gain that power by becoming a utility.
At the tap into the Constitution Pipeline (i.e. the station gate), there would be built a twelve foot by twelve foot utility building containing equipment to meter, reduce pressure, and odorize the gas. This distribution system would not require a compressor.
This distribution line is contingent on the construction of the Constitution Pipeline. Even if that is completed by March 2016, construction of this line would not begin until 2017 or 2018. Prior to the Franklin/Delhi line, Leatherstocking is planning to build distribution lines from Millennium Pipeline to Windsor and then from Constitution Pipeline to Sidney. Other possible service areas are Bainbridge and Unadilla.