Music Notes by John O'Connor
Spectacular Lineup at the Franklin Farmers Market
With the introduction of grant money to support live music at the Franklin Farmers' Market comes the opportunity to diversify the programming. I have been singing from the steps of the Franklin Stage Company for several years now, sometimes accompanied by the spoon man, Gene Marner. I've done the lion's share of the singing at the Market, but there have been occasional others, such as Jason Starr and Kathy Shimberg. Now, with a full scheduled season of music, we're in for a season of much more variety, thanks to the grant-writing efforts of Trish Tyrell, Marjorie Kellogg, and Lynne Kemen.
Here's what we have to look forward to. The Sunday of Memorial Day, May 26, Rickety Fence will open the season with their eclectic mix of folk, classic rock, and Americana. Their sets range from classic rock such as Neil Young and Grateful Dead to current artists such as the Decemberists. With this great spirit and sound, the Market music series will open with a bang. Rickety Fence will also appear on June 23 and August 11.
On June 9, the Local Seisiún trio, consisting of Jean Withrow, concertina; Jim Haggerty, flute and whistle; and Kathy Shimberg, fiddle and piano, will grace the Market with Irish traditional music. The trio grew out of a regular session that began in Bainbridge, NY back in 2007 and continues twice a month, sharing a common love of the older styles of traditional Irish dance music — jigs, reels, hornpipes, waltzes, polkas, barn-dances — slow airs, and an occasional song or story. They will return also on July 14 and September 22.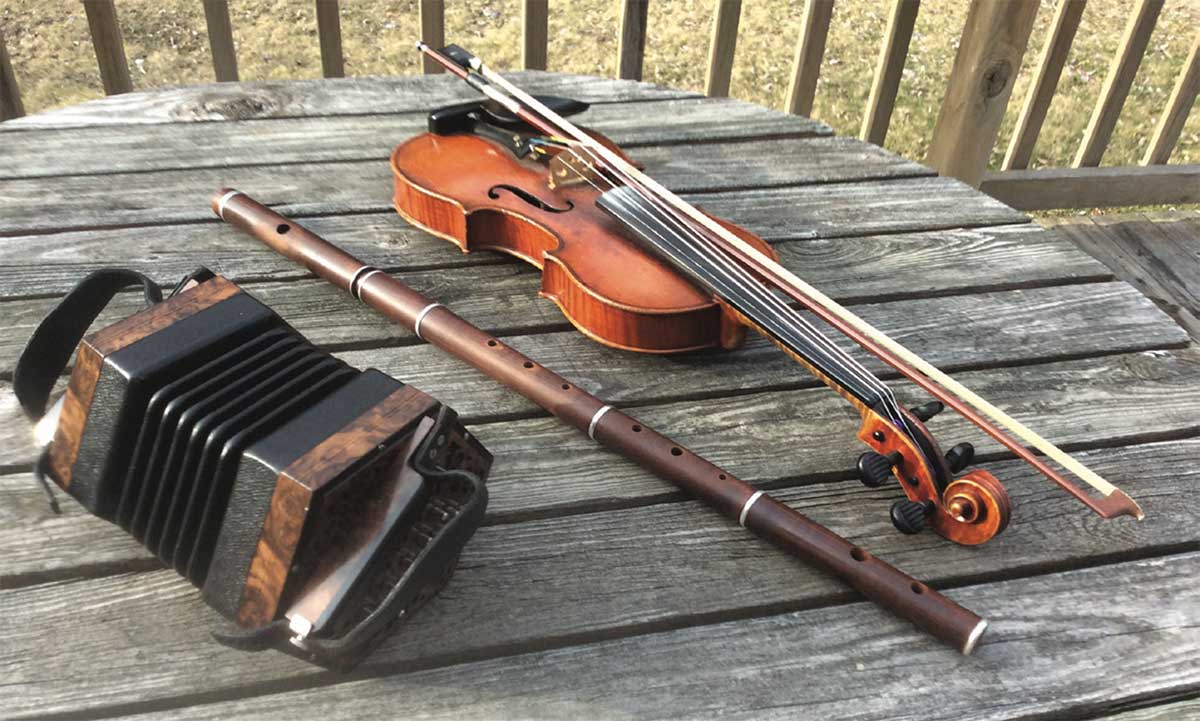 The Market is lucky to feature the talented songwriter and performer, Colleen Kattau, from Cortland. Colleen tours nationally and performs with great spirit and finesse, singing songs that matter to all of us. She'll appear on August 4.
The Hyzer Hillbillies will make their first appearance at the Market on June 16. They are the local Delaware County folk and bluegrass duo of Joseph Laureira and William Duke. Joseph plays guitar and sings, while William sings and plays banjo, mandolin, and slide shovel guitar. Joseph has an extensive rock background, and William has been a folk musician and singer/songwriter for many years. Their second appearance at the Market will be on July 21.
On August 25, the Franklin Farmers Market will take a welcome turn toward classical music by featuring the Catskill Music Consort, a group of musicians who play and perform in various classical ensemble configurations, but whose primary focus is their community orchestra which meets in Delhi in the summer. Nicholas Scarim, the driving force behind the ensemble, is a Brooklyn-based composer, conductor and arranger, whose operas and symphonic music have been performed nation-wide. Performing as part of a trio are Amy Pratt and Wynn Shilling on flutes.
Another welcome departure from the usual folk orientation of the Market's music schedule will be the Old Masters on September 8. They are Tom Iverson on keyboard, Tom Ives on bass and Dan Martin on trombone. All seasoned and professional area musicians, they will bring jazz and standards to the Franklin Market.
One of the Market's friends and favorites, Jason Starr will play twice at the Market; once on August 18 and September 29. Jason is a guitar player and singer who has been performing in the area since he arrived in Franklin with his wife and daughter in 2010. He plays in the genres of bluegrass, blues, Americana, the Great American Songbook, Motown.
And yours truly will be singing my Franklin Farmers' Market repertoire on a few dates throughout the summer. But I am very pleased to report that on June 30 I will be introducing to the world my new musical ensemble, John O'Connor and his Fellow Travelers. The Travelers are Steve Murtha on guitars, banjo, mandolin and ukelele, Tom Ives on bass and Robin Seletsky on clarinet. These three are fabulous musicians and to put the icing on the cake, they all sing. We will be playing songs from my Market repertoire as well as my own songs.
The last two farmers markets will host Franklin's own jazz piano legend, Charles Eubanks. Charles has toured with jazz greats, such as Art Blakey and Archie Schepp. Don't miss this. October 6 and 13.
We are fortunate to have such great music on schedule for every Sunday from Memorial Day to Columbus Day (or Indigenous People's Day … c'mon, New York State, get with it). Music starts around 11 a.m. and goes to about 1 p.m. So, come on down to the Market and hang around, and buy a few organic onions while you're at it. It will be the hippest place to be in the Western Catskills on Sunday mornings.