The Tennessee Gas Pipeline Company, LLC (TGP) plans to build in Franklin the mid-stream compressor and office buildings for the supply path segment of the Northeast Energy Direct Pipeline. For this facility, they have taken an option to purchase a hundred seventeen acres from the Haneys. This land is mostly north of (uphill of) the proposed route of the pipeline and east of Otego Road. It is two miles above the Village of Franklin and one mile above Village of Otego.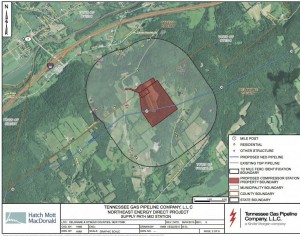 The compressor building would occupy a ten acre site close to the pipeline, which is near the southern boundary of this property. Access to the site would be from the existing road to the unfinished tower at the northern boundary. Plot plans are expected with the revised Resource Reports in July. In the building, a C85 compressor would be powered by a single 30,000 hp gas turbine, similar to a jet engine. This model Titan 250 is the largest made by Solar Turbines Inc. Every minute it will push a half million standard cubic feet of natural gas through a pipe thirty inches in diameter.
The turbine would operate continuously except for testing, maintenance and accidents/repairs of the turbine, compressor, or pipeline. Any stoppage would require venting of the gas which is at 1,490 psi — similar to a rocket exhaust.
A Titan 250 gas turbine exhausts 540,000 lbs/hr or 13 million lbs/day or 4.7 billion lbs/yr. Any toxin, even in minute concentrations, adds-up quickly. And then there are the contributions from gas leaks, accidents, and blowdowns. It is common for turbines to be added to compressor stations after a number of years. All those acres provide plenty of room for lots more infrastructure.
The homes of twenty two residents of Franklin and Otego are located within the half mile zone around the property where FERC is concerned about noise levels.
In an interview with the Daily Star, Supervisor Jeffery Taggart justified support of the compressor station by the positive financial benefits. At the June meeting of the Town Board, Taggart estimated that the compressor station would yield a twenty million dollar increase in taxable property value in Franklin. At a tax rate of $1.0 per thousand, that could yield $200,000 to the town.
"Those who cannot remember the past are condemned to repeat it."
– George Santayana, Reason in Common Sense
Subtracting from this would be the loss of value of properties neighboring the site. Unlike with the pipeline ROW, industry does not even claim that compressor stations will not pull down values of neighboring properties. Also subtracted would be any relief negotiated in a PILOT by the IDA. Already the property that CPC bought in Franklin has been transferred to Delaware County and taken off the tax rolls.
Whatever the increase, it may be short lived. Utilities are notorious for pressuring a town to reduce their assessments and thereby their tax payments.
Franklin has been through all this before. As the Edic to Fraser power line (Marcy South) is owned by a Power Authority of the State of New York, no taxes are paid to the town on this infrastructure.
The positions of the four other Board members are unknown because, at least in public meetings, they all have withheld comment on this topic in the year since plans for a compressor station were announced.
The Town Board has done nothing to discourage TGP from siting the facilities here, or even to mitigate the harm. Repeated requests by town residents to enact noise and zoning restrictions have been rejected. In May, a year after such a resolution was proposed, the Board did pass one opposing the building of the compressor station until certain unspecified questions were answered. This resolution was for local consumption, the Town Clerk having never been instructed to communicate it to TGP.
Their refusal to act seems contrary to New York State Town Law § 272-a, which states that all land use regulations must be consistent with a town's Comprehensive Plan. The top three goals of our Plan are to preserve the rural character, to preserve prime farm land, and to protect natural and historic resources. This is the consensus of the townspeople. When the Plan was written in 2006, two of our current Board members served on the steering committee, Supervisor Taggart and Councilman Smith.
What is it like to live with a compressor station night and day, three hundred sixty-five days a year? Standing outside for a few minutes after a long and noisy drive is hardly a fair measure.
The Town of Schoharie is now neighbor to the Wright compressor station for Iroquois and is slated for two more compressor station for NED. (Just as with pipelines, once one compressor is built, the location is the easiest place for expansion.) Supervisor Milone says "It would not benefit our people," and vows to resist it. The town has had a moratorium on construction of compressor stations. A new local law bans such stations.
Neighboring the mid-stream compressor station on Hungry Hill Road in the Town of Handcock, there were only four full-time residences within the half mile FERC zone. Of the closest three, one has been bought by Delaware County IDA and abandoned, a second has been bought by Millennium, and the third was under negotiation.
In August of last year, neighboring homeowners appealed a denial of the reduction of their assessed valuations due to heavy truck traffic, persistent low-level vibrations, noxious odors, and air contamination. The three town assessors granted two properties a twenty-five percent reduction and granted one with the addition of property damage from blasting during construction a fifty percent reduction. Said Hearing Officer John Creech, "I wouldn't want to live next to it."
The Malichs have a second home near in Minisink where a mid-stream compressor was built on the Millennium pipeline. Two years ago, their teenage son developed late-onset asthma, with symptoms erupting during visits to their cabin, particularly when there were "odor events." Neighbors have reported developing nosebleeds, rashes, sore throats, shortness of breath, and dizziness.
The current Town Board of Franklin has been in office since before the plans for this facility were announced in April of 2014. Inaction is consent. If built, the mid-stream compressor station of the NED supply path will be this Board's legacy to the Town of Franklin for a generation, for good or for ill.