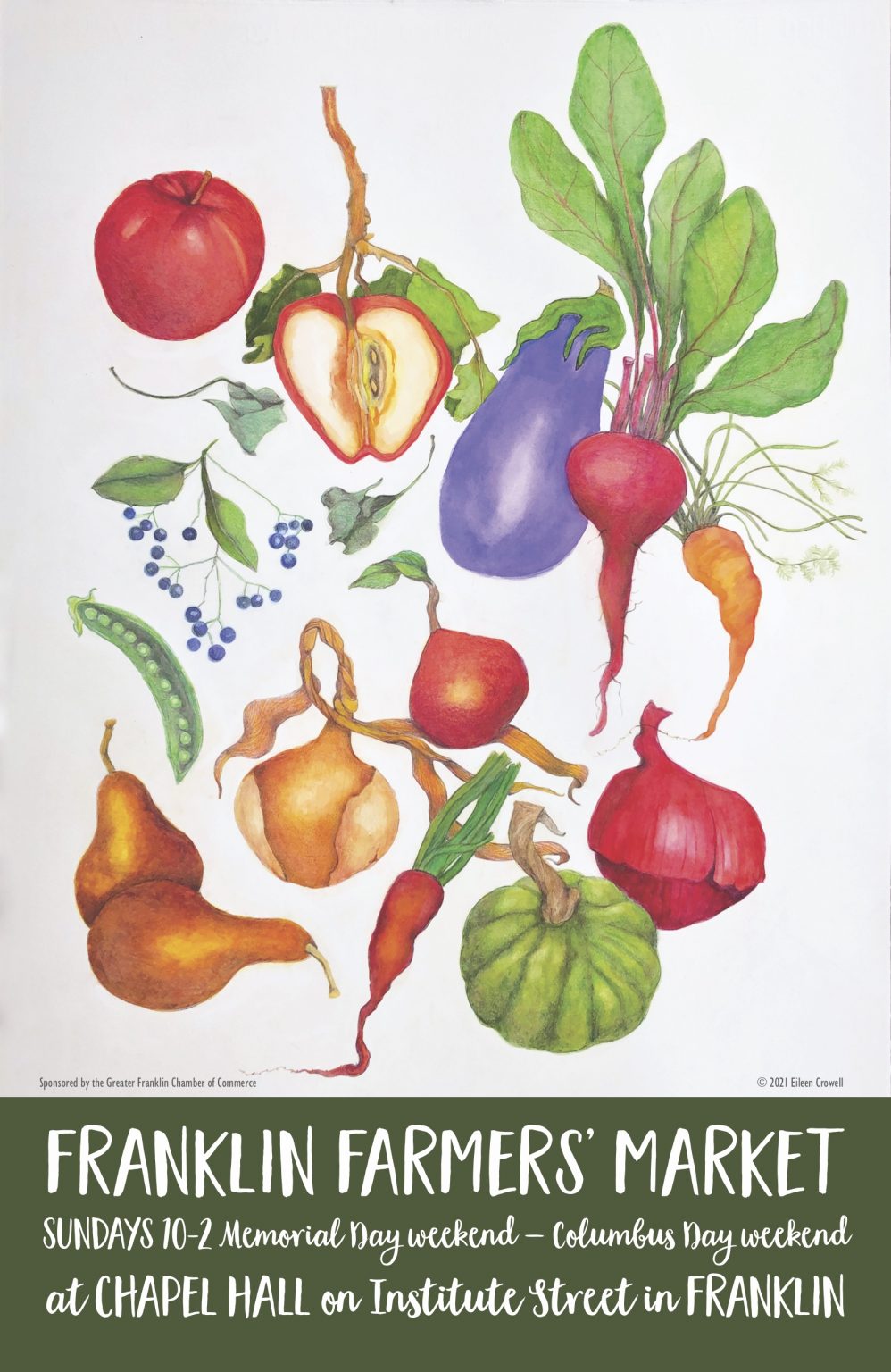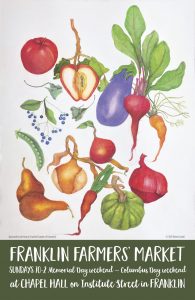 The Franklin Farmers' Market 15th summer season opens on Sunday, May 30th. In the Village of Franklin on Institute Street, the market will be open every Sunday from Memorial Day weekend to Columbus Day weekend from 10am to 2pm.
Artwork for this year's poster by Eileen Crowell.
Vendors from Franklin and surrounding towns will sell breads & rolls, beef, chicken & eggs, doggy treats, herbs, honey, jams & jellies, jewelry, maple candies and syrup, mushrooms, plant seedlings, pork & lamb, preserves, a variety of produce, relishes, Scandinavian baked goods, sunflower oil, and fresh & smoked trout.
Vendors at the first market include:
Best Dog Cookies
Cordwood Acres Farm
East Brook Community Farm
Empire Angus Farm
Enough … and A Little Bit More
Franklin Garden Club
Fokish
Hare and Feather Farm
Izzabon
Off-Road Maple
SaJoBe Farm
Skytop Springs Fish Farm
Trollbok Farm
Vitality Homestead
Check the Facebook page for up to date information:
facebook.com/FranklinNYFarmersMarket
Franklin Farmers' Market accepts coupons from the Farmers' Market Nutritional Program.
Market management will follow all COVID precautions required by New York State. For the protection of the unvaccinated children present, we ask that you wear a mask. Masks will be provided if you forget yours. You should be free of symptoms, as should everyone in your household.
Tables and chairs, well spaced, will be available on the adjacent lawn. Beverages will be sold at the cafe tent.
Midday music will be provided by Bill Steely, a singer/songwriter who has played in clubs from the Mercury Lounge in New York City to The Bluebird Cafe in Nashville. Bill writes mostly country music. His songs have played on national and international radio stations which feature country and Americana. He will be accompanied by his son Wade, a multi-instrumentalist and recent graduate of Hamilton College.
The weekly Music at the Market program will resume July 4th after the pandemic pause of last year.