We are proud to note that all musicians are paid at or above union scale as defined by Local 1000AFM
Have questions about John O'Connor's article, page 15 of NFR #43? We have answers.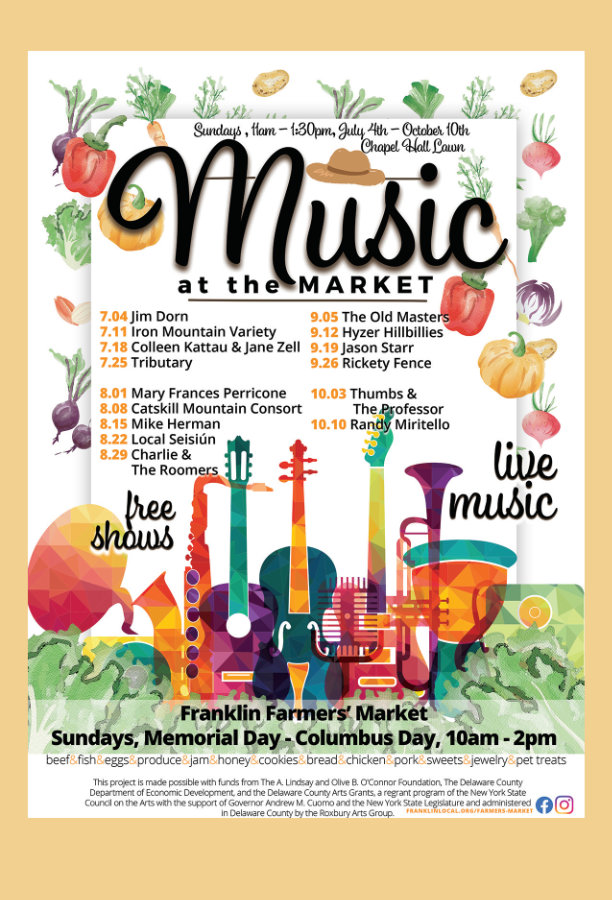 The Franklin Farmers' Market, now in its 15th season, continues every Sunday through October 10th, 10 a.m. to 2 p.m. The open-air market is located on the lawn of Chapel Hall on Institute Street.
The market offers local produce and products for sale – breads, rolls, beef, chicken, eggs, dog treats, herbs, honey, jams, jellies, jewelry, maple candies and syrup, mushrooms, plant seedlings, pork and lamb, preserves, a variety of produce, relishes, Scandinavian baked goods, sunflower oil, and fresh and smoked trout. The market accepts coupons from the Farmers' Market Nutritional Program.
Music at the Market programming returns July 4th, 11 a.m. to 1:30 p.m., with performances every Sunday through October 10th. The line-up of local and traveling musicians includes:
July 4th: Jim Dorn – Singer/songwriter playing pop, country, and folk from the sixties through present day on guitar and vocals.
July 11th: Iron Mountain Variety/Steve Eisenberg & Jim Tompson – Local musicians performing a variety of country, Celtic, show tunes, rock and roll, jazz, blues and more on flute, bodhran, harmonica, whistle, percussion, and vocals.
July 18th: Colleen Kattau & Jane Zell – Bilingual powerhouse Colleen Kattau performing Latin-influenced Indy folk and socio-environmentalist music on guitar and vocals is joined by Upstate New York favorite Jane Zell for a blues, swing, and funk flavor.
July 25th: Tributary/Kathy Shimberg, Dane Scudder & Ed Haher – Folklore-enthusiasts playing old-time, traditional music from the mountains.
August 1st: Mary Frances Perricone – A vocal performer hailing back to music from the fifties through the seventies.
August 8th: Catskill Mountain Consort/Amy Pratt – Trio celebrating classical favorites and original compositions.
August 15th: Mike Herman – Country blues on fingerpicked guitar with rugged vocals from a Northern Catskill performer.
August 22nd: Local Seisiún/Jean Withrow, Jim Haggerty & Kathy Shimberg – Local trio performing tunes fit for an Irish pub on traditional instruments.
August 29th: Charlie & The Roomers/Phil Leinhart, Charlie Reiman, Reggie Barnes, Orion Palmer & Hank Stahler – Featuring the mastermind behind Fokish bread and baked goods, the band will be playing blues, funk, soul, country, Nawleans, and more.
September 5th: The Old Masters/Tim Iversen, Dan Martin, & Tom Ives – Group of long-time area musicians playing jazz standards out of the American Song Book.
September 12th: Hyzer Hillbillies/Bill Duke, Gayle Brown & Joseph Laureira – Local folk and bluegrass group featuring cover songs and originals on banjo and guitar.
September 19th: Jason Starr – Singer-songwriter playing a foot-stomping set of country-bluegrass music.
September 26th: Rickety Fence – Playing a little bit of this and a little bit of that, the trio performs songs across genres and time periods.
October 3rd: Thumbs & The Professor/Tim Iversen et al. – Songwriters duet playing a wide variety of blues, traditional and original tunes on a wide variety of instruments.
October 10th: Randy Miritello – Nationally-touring musician mixing classic country and blues for a honkytonk good time.
Seating is available for these free performances, beverages can be purchased from the hospitality tent, and food is available from multiple vendors. NYS COVID-19 precautions are being followed, and all customers and their households should be free of symptoms. For the protection of the non-vaccinated children, patrons should wear masks.
The market is hosted by Franklin Stage Company, managed by Franklin Local, and sponsored by Greater Franklin Chamber of Commerce. Music at the Market is made possible with funds from the Delaware County Arts Grants, a regrant program of the New York State Council on the Arts with the support of Governor Andrew M. Cuomo and the New York State Legislature and administered in Delaware County by the Roxbury Arts Group, the A. Lindsay & Olive B. O'Connor Foundation, and Delaware County Economic Development.
For more information visit facebook.com/FranklinNYFarmersMarket
In reference to the article "SO LONG, FRANKLIN FARMERS MARKET" by John O'Connor in issue #43 of the New Franklin Register.
The Facts of the Matter
Concerning the payments by Franklin Local to the musicians who will perform at our Music at the Market program, misstatements have been circulating in print and on social media. To correct the record, "let facts be submitted to a candid world."
Due to the pandemic last year, NYS restrictions prevented Franklin Local from hosting Music at the Market. Later in the season, as restrictions began to ease, Mr. O'Connor requested to play at the market. The market management thought this too risky and so declined. He disregarded our wishes, arriving to play. Covid restrictions for public performances were not eased until the end of April of this year.

In 2019, members who met with Mr. O'Connor were not a bargaining committee nor is there a collectively bargained agreement between Franklin Local and any musicians' union.

Early this spring, he repeatedly declined to explain what his problem was or the facts of the matter for a month; insisting only that we must meet with him. It was with the intervention of the president of the union that her emails revealed the interest of AFM Local 443 and explained what this entailed.

Late this spring, the timing of our board meeting was determined by that being the first weekend in months when all board members were in Franklin. With our farmers' market opening the next weekend, we needed to meet.

In 2019, two of the performers at our first Music at the Market belonged to Local 443 so we paid them by their union rate and extended that rate to all acts. In 2021, no one belongs to Local 443 but one belonged to Local 1000 of travelling musicians. Again, we will be paying her by the relevant union rate – or more – and extending that rate to all acts. This is equitable, and we think fair.

Local 1000 forthrightly posts it rates on their website. Local 443 does not, although we subsequently pieced together the specifics through multiple emails. Comparing the two, it is debatable which is fairer.

Whichever pay rate, the same sum of money goes to the musicians with the difference being how that sum is divided. As Mr. O'Connor admits, whichever rate, some musicians will be paid more and some paid less.

Contrary to his analogy to Amazon.com Inc., Franklin Local Ltd is a not-for-profit with all funds for its Music at the Market program going to musicians and expenses.

Musicians in the 16 acts scheduled to play are satisfied with the rates that we mutually agreed to. All this market season, no musician will be paid less than $100, as they were in 2019. This is pro-musician, not anti-union.

The position of Local 443 is that because Franklin lies within territory claim by them, everyone involved must obey their rules regardless of the wishes of the people involved. All but a couple of the musicians who have played and all who will play choose not to join Local 443. They have had no say in that vote on those rates.

The mission of Franklin Local is to enhance the community through our farmers' market and newspaper. The Music at the Market program, which is for the enjoyment of the patrons and the profit of the musicians, is not central to this mission. Given the amount of our time that has been diverted to dealing with these demands, likely that this will be the last year we will be paying musicians – a regrettable outcome.
Franklin Local