Franklin Farmers' Market will open for their summer season on Sunday May 28th in the Village of Franklin on Institute Street. The market will be open every Sunday from Memorial Day weekend to Columbus Day weekend from 10a.m. to 2p.m. Franklin's market offers locals produce and products for sale in the fresh air and sunshine.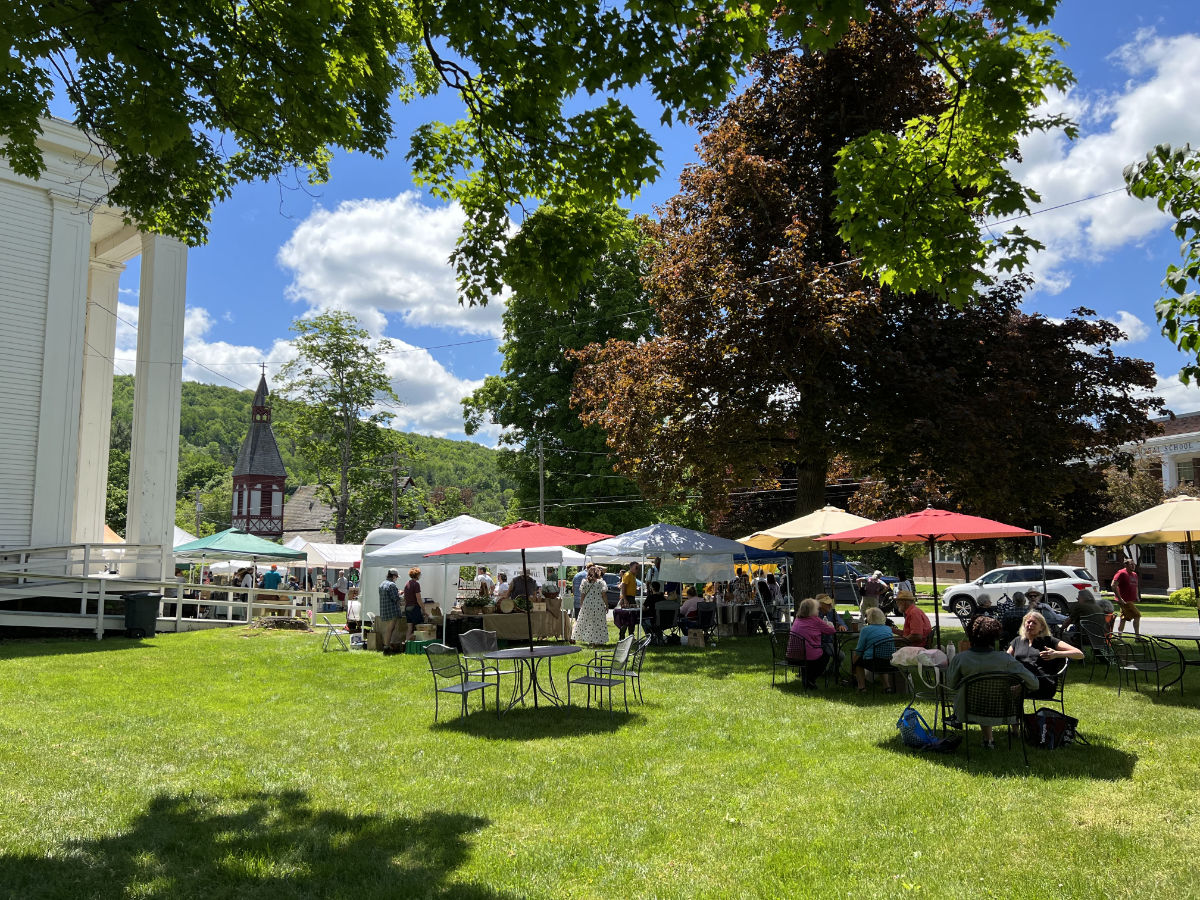 Vendors from Franklin and surrounding towns will sell baked goods, beef, botanical bath & body products, fudge & cashew brittle, garlic & scapes, goat milk soap, gourmet marshmallows, hand-dyed silk scarves & handmade jewelry, herbs, honey & beeswax products, fruits in season, hickory syrup, jams & jellies, lamb & sheepskin, maple syrup & candies, meat rubs & spice mixes, mushrooms, pork, preserves & relishes, fresh & smoked trout, a variety of vegetable, and vegan soaps & desserts.
Returning weekly vendors include Chubby Bunny Confection, Cordwood Acres Farm, Empire Angus Farm, Hare and Feather Farm, Izzabon, Off-Road Maple, Skytop Springs Fish Farm, Trollbok Farm, and Wild View Farm. New this year are Maria's Upstate Kitchen, Oak Hill Farm, Soap By Nature, Upstate Bakery, Vesucre, LLC, and Willow & Birch Apothecary. Vendors come from Andes, Franklin, Hamden, Gilbertsville, Laurens, Oneonta, Otego, Sidney Center, Treadwell, Walton, and West Laurens. Occasional vendors will include Ty's Taco-Ria food truck with her first visit on July 9th. New vendors are invited. For current offerings, consult the Facebook page of the market Franklin Farmers' Market accepts coupons from the Farmers' Market Nutrition Program.
In addition, subscribers to the East Brook Community Farm CSA will be able to pick-up their weekly share of produce at the market. To register for a share https://www.eastbrookfarm.com/shop
The market will host fundraisers for community organizations free of charge. Community bake sales will include Franklin Rotary on June 11th. On opening day, FCS Softball Team will offer a midday barbecue, as will FCS Clay Shooting Team on Father's Day June 18th.
On the adjacent lawn, tables and chairs are for snacking, conversation, or just relaxing. Beverages will be sold at the cafe tent. Local buskers may stop by to entertain including the perennially popular singer/songwriter Bill Steely with his son Wade on July 2nd. Musicians are invited to schedule with the market manager.
This is the 17th year of Franklin Farmers' Market providing a venue for local bakers, confectionaires, craftsmen, and farmers on the lawn of Chapel Hall, which was built in the 1850s as part of the Delaware Literary Institute. A half century later, this three-story post-and-beam Greek Revival became the temple of the Free and Accepted Masons, Lodge #562. For the last quarter century, it has housed the Franklin Stage Company, offering free professional theater. Their season begins June 30th with the comedy Good People by David Lindsay-Abaire.
Later this season the 300th market will be celebrated. Watch for a future announcement for details.
The entire village of Franklin is on the National Historic Registry, and a self-guided walking tour is available. It is situated along State Highway 357, part of the historic Catskill/Susquehanna Turnpike, which in the early 1800s was a main route from the Hudson River landings to the western frontier on the Susquehanna River.
Breakfasts and lunches are offered around the corner on Main Street at Marshall's Pizza, The Tulip and the Rose Café, and Yokel restaurant. Shops include Blue Farm Antiques & Letterpress Printing, Botanical Treasures, GaryGraham422, Good Taste Epicurean Market, Kabinett & Kammer, Lava atelier, and Mercantile on Main.
Market is a community effort: hosted by Franklin Stage Company and managed by Franklin Local.