By Trish Tyrell
Despite the sprawling stormfest that is 2020, there have been some silver linings. One is a remarkably successful and sunny fourteenth season at the Franklin Farmers' Market.
Even with the ever-present anxiety and concern around COVID-19, the market saw record-breaking growth, and vendors experienced their most profitable year ever. It is as if COVID led to a greater appreciation for food grown and processed by local folks whom you know and trust.
Remember the meat shortage? The bare shelves when you shopped for basic groceries? Or people sharing information about where to get this or that? Well, it turns out that in the COVID era, farmers' markets are one of the wheres. Blessed with open-air, social distancing signage, a rope perimeter and a giant bottle of liquid hand-sanitizer, the market environment offers a comfortable and safe shopping experience for masked and sometimes gloved patrons.
One of the few traditional community events to survive during the pandemic, the market was the opportunity for folks wearied by weeks of isolation to discover a sense of normalcy in a strange new world, and to be reassured that this too shall pass. Or, at least become less strange.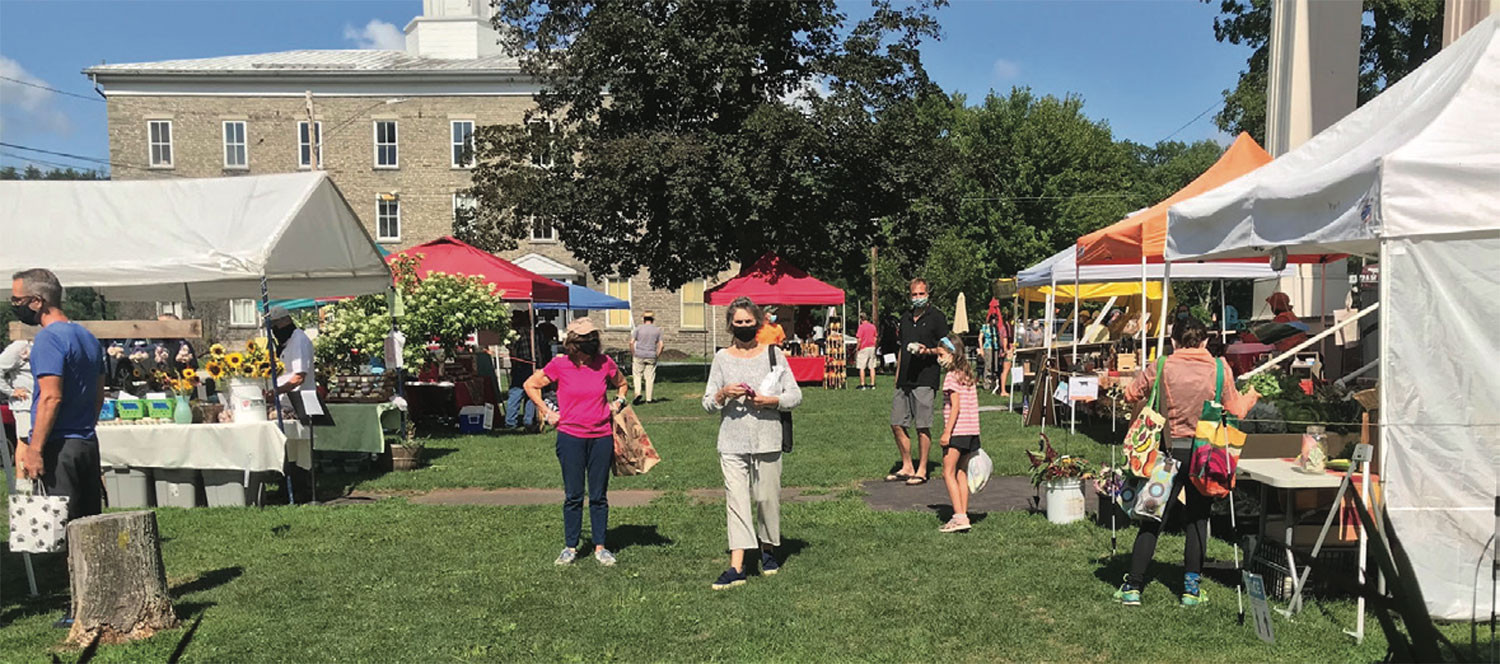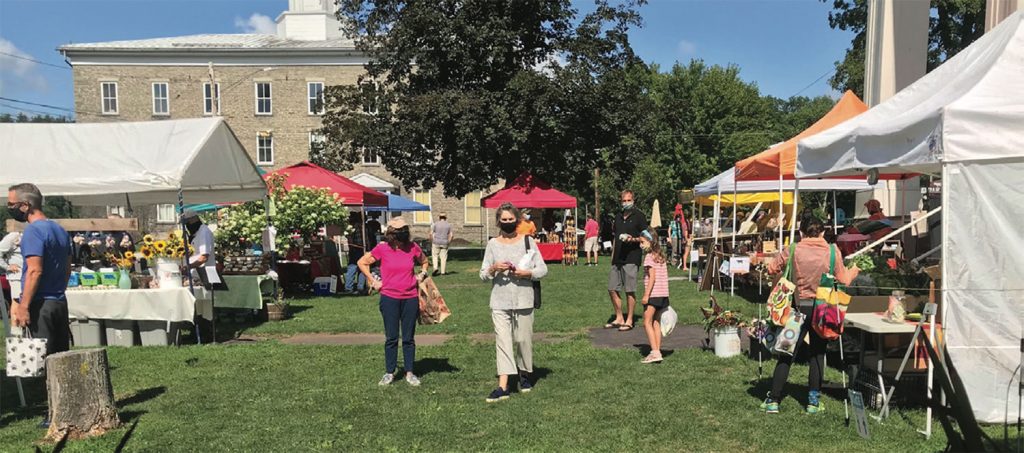 Veteran vendors Hank Stahler of Fokish Bread and Bruce Zimmer of Cordwood Acres marked their tenth year at the market, having joined early on. This year, Fokish shelves were often empty before noon. Bruce sold almost all of the 800-plus goat's milk soap bars he crafted over the previous winter.
Newbies Jade and Asa of Vitality Homestead brought perennial plants, reishi and chaga mushrooms, Herkimer diamond rings, quail eggs, and delicious fresh vegetables, joining the FFM's other traditional produce vendors. In addition to soap, Cordwood Acres sold locally cultivated gourmet fungi such as Lion's Mane and Blue Oyster Mushrooms, garlic varieties, and continued to expand in the number and volume of fruits and berries available.
East Brook Farm rocks on as reigning regenerative farming champ, first with hundreds of vegetable and herb seedlings, then the freshest greens, biggest beets, and…the whole-est chickens?! That's right! In addition to their amazing veggies, Cicada and the East Brook gang expanded to offer delicious locally grown whole chickens.
Poultry products complemented other protein-packed producers, such as Mike Sellitti with Skytop Springs' rainbow trout fillets, sold fresh and smoked. Since the smoked trout almost always sold out, it is important to know that orders can be placed in advance.
The same is true for Meg and Empire Angus. With eager beef-eaters blowing up her Messenger since March, it was a challenge for the Shivers family to meet the significant increase in demand for their beef throughout the entire market season. Angus beef has most certainly been what's for dinner.
The addition of Lindner's Cider provided a new treat: hard apple cider products. Having all the components of a meal available in one place – including beverage – definitely adds market appeal.
Diane Jordan from Off Road Maple offered a selection of Pure NYS Maple Syrup products and related items, including syrup (some bourbon-barrel infused), candies, teas, coffee, sugar, pancake mixes, and more.
Also offering maple products was Larry of Elk Meadow Farm. His maple-pepper seasoning has always been a hit. Honey is another sweet treat for sale. Alongside Larry was Betty, who sold hand-made masks in both adult and children's sizes.
Karen of Hare and Feather Farm expanded her stock of traditional jams, jellies, fudges, salsas, and eggs, despite an "unofficially declared" jar-shortage. John the Baker has again sent thousands of dollars to St. Jude's and Tunnels for Towers charities with his authentic Italian cookies and desserts. John's commitment to his causes has been an inspiration to us all.
Occasional appearances included newcomer Ostrander Woodworking, with handmade wooden spoons and kitchen utensils; Grandpas' Garlic, with garlic and scape pesto; Braestone's Alpaca Farm, with knit items made of local fiber, including from Franklin; and, finally, much missed Izzabon handmade jewelry and dyed silk-scarves.
While the weekly market has ended, significant vendor and customer interest prompted exploration of a winter market possibility, from November to April. Success! A location has been identified. Thanks to the hospitality of the Walter Rich Foundation, both the Community Center and Railroad Museum will be housing vendors.
The inaugural Winter Franklin Farmers' Market will be on Sunday, November 8th, featuring almost all of your favorite vendors. COVID-19 guidelines will be in effect and enforced. More details will be available through Facebook at Franklin, NY Farmer's Market.
Lastly and always, thank you to all the volunteers who make each week possible, to the vendors who offer amazing products, and to our loyal customers.
Your support gives strength to the market and the community.