Again this year, in late winter and throughout the spring, the Franklin Garden Club is sponsoring a series of lectures of interest to local gardeners. The lectures are held on selected Saturday afternoons at the Franklin Railroad & Community Museum, starting at 3 pm. They are free and open to the public, with donations suggested. Light refreshments follow each lecture, with a chance to talk with the speaker and other gardeners.
The Franklin Railroad and Community Museum, at 572 Main Street in Franklin, is the large building behind the National Bank of Delaware County. The entrance is between the bank exit drive and the Town Clerk building. There is ample parking.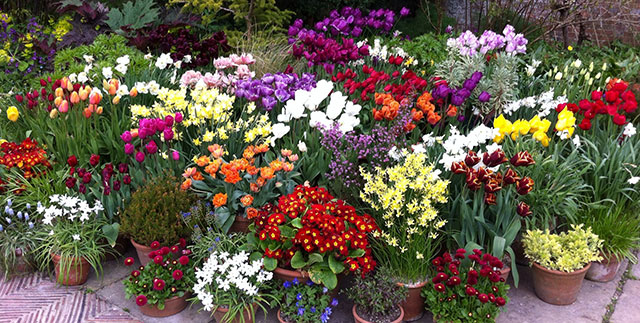 The series begins on February 22, when Don Statham presents "The New Perennial Movement," tracing this international movement from its founder, William Robinson, through the Arts & Crafts Movement in England with Jekyll, Johnson, and Sackville-West; to continental Europe and America with the contributions of Karl Foerster, Mien Ruys, and Oehme Van Sweden; and finally to the present day innovators Piet Oudolf, Tom Stuart Smith, Sarah Price, and James Golden. Statham has worked as a garden designer here in the U.S. and in Scotland for 20 years, and has written a garden column for Kaatskill Life magazine since 2005. He also writes at DonStathamBlog.com, often featuring his Totem Farm Garden which is located in East Meredith.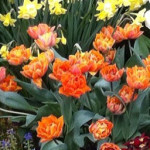 On March 8, Kathy Purdy speaks on "Colchicums: Autumn's Best-Kept Secret." Purdy has been gardening in the cold climate of upstate New York for over 25 years. A garden writer whose work has appeared in several regional and national magazines, she wrote the definitive article on colchicums for American Gardening magazine in 2007. An early pioneer of garden blogs, Purdy started ColdClimateGardening.com in 2002. She is also a self-proclaimed colchicum evangelist, having converted more than one local gardener into "colchicophiles."
Sondra Freckelton's lecture "Art and Garden Design" on March 22, brings together her acclaimed accomplishments in both fields. Freckelton studied at the School of the Art Institute of Chicago. She has had solo exhibits at major galleries in New York, Chicago, Washington, D.C. and San Francisco, and her works have been exhibited at many museums, galleries, and traveling shows throughout the United States. Her extensive garden bordering Ouleout Creek in North Franklin has been featured on many garden tours over the years.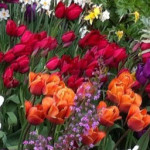 On April 12, Diana Hall offers "Inspiration in the Spring Gardens of England and France." Hall has a jewel of a town garden in Franklin that has been included on several garden tours. Her Botanical Treasures shop in the village features beautiful plant containers and garden ornamentation. She will share photographs from her May 2013 tour of renowned gardens such as Great Dixter and Sissinghurst.
On April 26 Deirdre Larkin presents "Herbs Into Weeds: Medieval Medicinals Naturalized in New York State." Larkin is a horticulturist and plant historian with a special interest in medicinal herbs and medieval pharmacology. She was associated for some twenty years with the gardens of The Cloisters, a branch of the Metropolitan Museum of Art, and was the creator and principal contributor to The Medieval Garden Enclosed, a blog on the Museum website devoted to the plants and gardens of the Middle Ages. She has recently left her position as Managing Horticulturist at The Cloisters to live and garden in Bovina.
Steve Whitesell discusses "Bulbs for the Longest Possible Bloom Season" on May 17. A landscape architect for the New York City Department of Parks and Recreation, Whitesell has BFA and BLA degrees in landscape architecture from Rhode Island School of Design and an MA in the history of decorative arts, with an emphasis on garden history, from Bard College. He lives and gardens in Schoharie County.
The final lecture in the series, on May 31, is "Fall and Winter Interest in the Garden," by Mel Bellar. Bellar is a landscape designer and owner of Zone4 Landscapes, as well as a member of the Common Ground Garden Club. A regular garden club speaker, Bellar lives and gardens in Andes.