Franklin Garden Tour, Sunday June 28th 11am – 4pm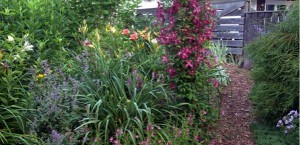 The Franklin Garden Club invites you to tour Franklin area gardens, featuring unusual perennials, espaliers, impressive stonework, a terraced alpine garden and other landscape features in village and country gardens. Tickets are $10 per person. On the day of the tour, maps may be purchased at the Franklin Farmers Market from 10:30am until 1pm. After 1pm purchase your maps at the Hall/Cohen garden at the corner of Center and Maple streets in Franklin.
Box lunches at $10 catered by The Tulip And The Rose restaurant in Franklin may be reserved by June 26 by calling the restaurant at 607-829-4040 or by emailing TheTulipAndTheRose@gmail.com, specifying a vegetarian or meat lunch. Lunches are to be picked up and paid for on the day of the tour at The Tulip And The Rose, on Main Street between Maple and Water streets.
Also at the Farmer's Market on June 28th, the Franklin Garden Club is offering a special Kid's Corner. Children will be offered the opportunity to get their hands dirty and learn about gardening with a display of different types of soil and mulch. They may also start a garden by planting seeds in handmade biodegradable pots.