By Michael Sellitti
If you've driven through the hamlet of Sidney Center recently, you may have noticed our beautiful new entrance signs. Funded and installed by the Sidney Center Improvement Group (SCIG), the signs are works of art created to welcome folks to Sidney Center by paying homage to the area's long history with the railroad.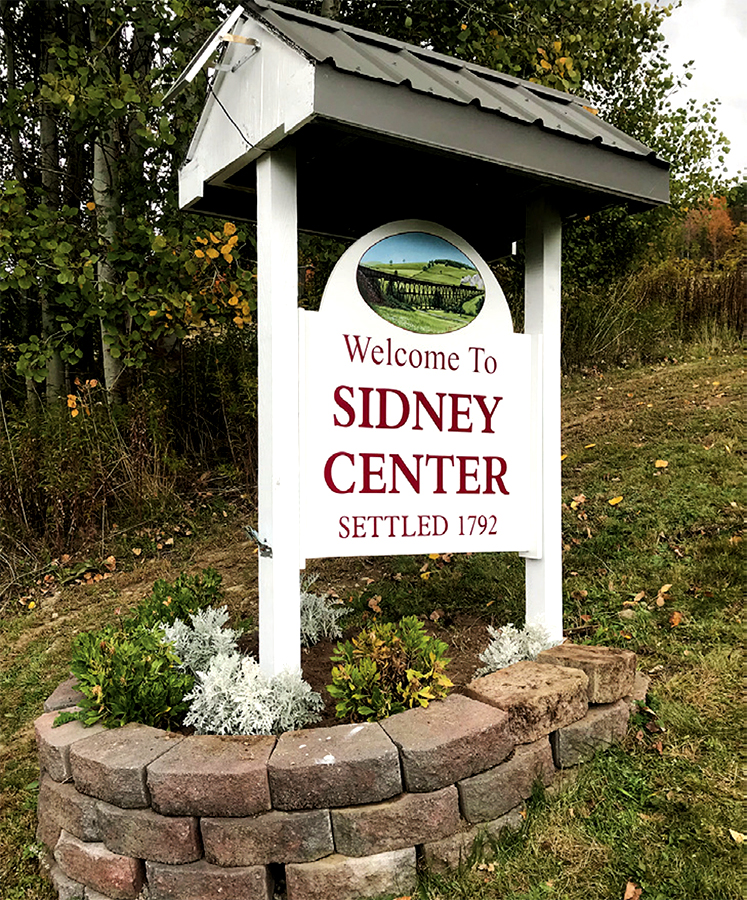 Sidney Center was once known to have the longest, tallest railroad trestle in the world. Shaped like a horseshoe, it towered one hundred feet over the hamlet. Sidney Center is also home to the historic Maywood Depot Museum and Community Space – a beautifully restored and maintained building that was once a stop on the O&W Railway system. The building and property are currently owned and operated by a non-profit, The Maywood Historical Group of Sidney Center, Inc.
SCIG enlisted the help of a local artist for the design and creation of the signs. Ty Steinbacher of Walton – whose family has ties to Sidney Center for generations – hand-painted the nostalgic scene of a steam locomotive passing over the trestle. SCIG hopes the signs will bring new attention and patronage to the Maywood Depot and reinforce the group's mission of moving forward, while not forgetting our past. On your next drive to view the fall foliage, take a ride through the hamlet and see the signs for yourself!
You can follow the Sidney Center Improvement Group on Facebook at facebook.com/SCIGNY/ or the Maywood Depot by searching "Maywood Historical O&W" on Facebook.